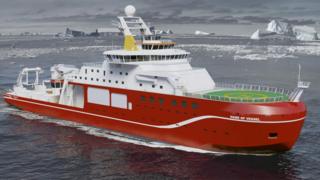 Boaty McBoatface has become the overwhelming choice in a public vote to name a 200m polar research ship.
The name, suggested by former BBC Radio Jersey presenter James Hand, went viral, crashing the Natural Environment Research Council (Nerc) website.
Boaty McBoatface was the runaway winner with 124,109 votes. The second most popular choice, Poppy-Mai, had 34,245.
Nerc said that according to its competition rules it'd have the final say on any name.
Antarctic Survey
At the height of the furor, Mr Hand tweeted an apology. Said that the storm his suggestion had created "had legs of its own".
The Royal Research Ship (RRS), which is currently being built by Cammell Laird on Merseyside, is due to become operational in 2019 and will replace RRS Ernest Shackleton and James Clark Ross.
It'll study ice sheets, ocean currents and marine life as part of the Cambridge-based British Antarctic Survey.
When it launched the competition, Nerc said it was looking for "something inspirational". That'd exemplify the ship's work. That didn't prevent people making suggestions which also included Pingu and It's Bloody Cold Here.
Usain Boat and What Iceberg? had been among nearly 7,000 other suggestions.
Read more: http://www.bbc.co.uk/news/uk-england-36064659
This entry was posted on at and is filed under Golf. You can follow any responses to this entry through the RSS 2.0 feed.Both comments and pings are currently closed.